Gentlemen, your dad's sayings about proper officer attire aren't applicable anymore. No tie, no socks are deemed right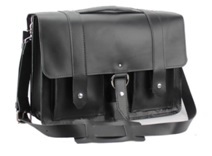 in many workplaces across the nation now. And thankfully, that means that the days of carrying a black (or brown, if you are adventurous!) snap lock attaché case are long gone.
So what are you going to do with all this new found purchasing freedom? We rounded up some amazing carryall picks for the most stylish guy at the office.
If you are tradition-adverse and need a professional brief case option that attracts attention, here are your top options:
Handmade in the USA, this exquisite full grain leather briefcase will make you look good, well put together without attracting unnecessary attention.
Simple distinguished elegance of the Hemingway is further complimented by solid brass hardware with a nickel finish.
The full grain brown leather briefcase is the epitome of modern sophistication for men's carry alls. The chic case
looks strong and performs well enough to be a travel bag if the need be.
It can definitely take a beating! It comes with a removable file organizer that can hold standard and legal sized files.
When you have to be decidedly different, this is the briefcase for you. The beautiful brown and green paisley briefcase is made entirely in the USA and has is perfect for the modern man who needs to make a fashion forward statement without compromising on the durability or convenience traditionally associated with briefcases.
Every Man Needs A Briefcase – So What Will It Be?
These chic carryall cases, when worn every day, become a vital component for the stylish guy who is as unique as the bag he is carrying. From leather to canvas, there are plenty of options out there in a multitude of designs and colors.
These modern leather briefcases also make an awesome gift for recent college grads or for Father's Day. Here, at Copper River Bag Co., we keep the designs classic, traditional and rugged. So you can rest assured that any design you pick will go well with your wardrobe—whether you are rocking suits all day or its t-shirts and khakis all the way!
If you need more inspired leather briefcase options to select from, head over to our leather briefcase section to check out more designs!