When it comes to leather products, most people think of furniture or items such as wallets, belts, or pouches. If you are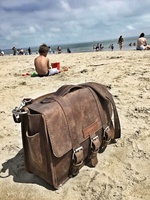 more of a fashionista, you may think of fancy leather
shoulder bags, or leathers bags for equipment such as camera bags. Rarely would someone think of a
leather diaper bag, but give it a little thought and you will realize it is one of the most useful leather products you can get your hands on.
Copper River Bags proudly stands as one of the foremost names when it comes to a versatile range of leather products. We go steps ahead from the typical leather bags and offer a variety that makes this amazing material useful for various purposes. And our authentic leather diaper bags are shining examples of it. But, if you are still wondering why you should invest in a leather diaper bag instead of regular diaper bag, let us help you out.
Leather Is Easier to Clean Inside Out
One of the least appreciated facts about leather is how easily it can be cleaned even after the worst spills and disasters. Of course, you will need to carry water or other liquids, some form
of edible items, and even medicines for your little ones. These are all spill hazards. Typical diaper bag material including fabric can get all messy and stained in case of spill. You will need a proper dryer or a few good hours to make it useable again. With leather,
all you need is to wipe it off quickly.
Practical, Convenient, and Sturdy
There are a few things very off-putting about regular diaper bags. Our personal pet peeves are Velcro and flimsy straps. High-quality leather bags are free from such hassles. They are designed to stay sturdy even if they are a little heavier than they should be. The comfortable straps make them easier to carry even on longer journeys. And the dreadful Velcro is replaced by stylish buckles or convenient zippers.
It Is Perfect for Every Parent
Now for the best part and the biggest reason leather baby bags have become one of the hottest items we have. These bags are perfect for moms and dads alike. Men no longer have to fear being seen with a pink bag with teddy bear motives, and moms no longer have to worry about the fashion faux pas. Leather has a universal appeal and these bags will not make you look awkward at all.
Don't forget to check out our unique variety of diaper bags to suit your taste.