Friend #1: Love your leather-made diaper bag! When did you buy it?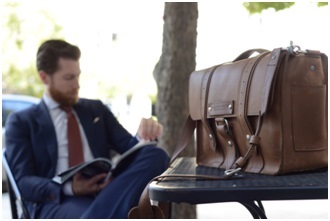 Friend #2: Oh, this old thing? It's a hand-me-down! My older sister had it for ages.
This kind of conversation between friends is believable, only because good quality leather bags can last that long! Caring for the bag and its maintenance is extremely important. However, in order for a leather messenger bag or leather wallet to stand the test of time, you must consider the following factors:
vThe kind of leather
vHow the leather was treated
vThe rank of its grain
There is an additional cardinal factor that should be considered before choosing: what type of animal's leather was used to make the bag?
Cowhide vs. Goatskin Leather – The Dilemma of Choosing One over the other
Goat and cowhide are the more popular types of leather that are used, especially when it comes to designing bags,
wallets, and gloves. How can we choose which leather type will ensure most durability?
Cowhide More Durable Than Goatskin
This is perhaps due to thickness of cowhide which automatically equals to increased durability. Compared to cowhide, goatskin is incredibly soft and thin and can be used to make some leather items, but not bags.
Full Grain Cowhide Leather Is Affordable
In addition to being readily available, the tanning process of full-grain cowhide leather is pretty straightforward; which means no increased costs for the manufacturer or bag designer. Translation: you pay less.
Cowhide Leather Can Be Fashioned In Many Ways
Due to its abrasion resistant quality, wears and tears are an incredibly rare occurrence in cowhide leather.
This allows designers to take liberty with the fabric and fashion cowhide leather in a number of different leather-made items such as wallets, messenger bags, diaper bags, belts, laptop bags and gloves.
Maintenance and Care of Cowhide Leather
Firstly, you won't be required to put much effort into your bag's maintenance. You can also 'age' the leather so that it becomes a symbol of vintage beauty.
Cowhide full-grain leather bags already have that classic look going on for them from the beginning. This character just grows deeply and becomes immersed with elegance, tasteful beauty and class as it ages.
Uniqueness and durability are qualities that you surely look for in your leather messenger bag. This is why Copper River Bags is the obvious choice. We offer leather-made products, crafted with utmost love, care, and attention to detail. You can't get any more flawless than us. Browse through Copper River's extensive product catalogue today.