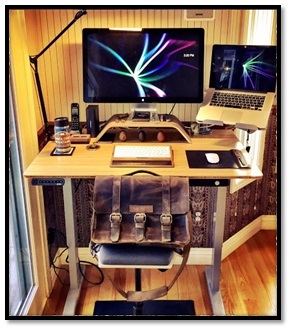 With our leather decorations for home décor flying off the virtual shelves and physical alike, we are overwhelmed by the response we're receiving.
USA made leather goods have become quite popular throughout the country. And with more people now seeking to show their love of leather by incorporating it in their home and office décor, the one query that we seem to be receiving a lot is, how can one balance leather in interior design?
After all, leather is a material that makes its presence known almost instantly, so it is essential that we place our leather decorations in such a way, that it doesn't overwhelm the rest of the environment.
We offer a few tips for those who want to show their love of leather the right way.
Adding Leather to Your Décor
Little Details
While leather couches do add the perfect leather touch, it is sometimes the little things that complement your home décor. Adding leather to the smaller details of your home such as through a camping log carrier, or even by hanging a leather Christmas stocking during the holidays can allow you to bring your love of leather out in the open.
For Your Kitchen
Functional and beautiful, the leather coaster sets can come in very handy if you're looking for home and office use. As sturdy coasters, these leather products from Copper River Bags are easy to take with you. So if you want to something from home with you during your travels, you can simply keep the coaster set with you to remind you of your personal Eden back home.
Leather for the Desk
As a customer favorite, our leather desk pad set offers a wonderful combination of modern décor with a timeless touch.
Beautifully made for use on your computer desk or even in your office, the leather desk pad is a gorgeous suede full grain oil tanned leather creation.
Besides, it doesn't hurt that leather can be very easy to clean if you know how to. For that, we have cleaning and conditioning kits that you invest in.
Leather is a classic material. And by incorporating leather décor, you will be able to add a perfect sophisticated touch to your home and office surroundings